MPO3D Plugins - MPO3D Plug-ins and gateway bookmark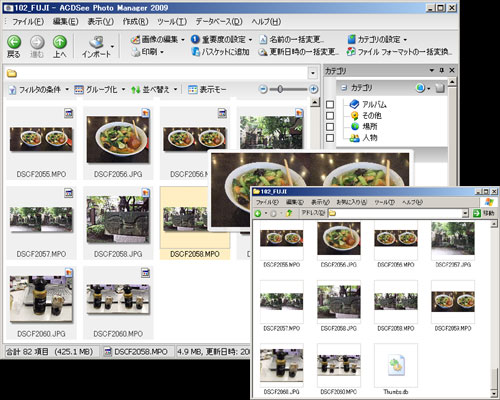 This project allows you to view and share MPO files easily. MPO is a 3D picture format used by the new 3D digital camera, Fujifilm FinePix REAL 3D W1.
Two plug-ins are available: the 32-bit shell extension to display thumbnails in Windows Explorer and the Susie plug-in for Susie-compatible applications. Susie plug-ins are widely used in Japan for picture-viewing applications.

Download Susie/Explorer plug-in pack Version 0.01 (MPO3D_Plugins001.zip)
4. Shell Extension bookmark
The shell extension allows you to view the thumbnails in Explorer windows. To install, unzip the Explorer folder into anywhere you would like to install. Then execute the Install.bat. To uninstall, simply double-click the Uninstall.bat in the same folder. Thumbnail of MPO files can now be viewed in Explorer.

5. Susie Plug-in bookmark
The plug-in allows Susie-compatible software to open MPO files natively. Simply copy MPO3D.spi under Susie folder into the appropriate Susie plug-in folder for the application you're using.
6. Plug-in Settings bookmark
You can select the 3D display mode from SxS(side-by-side) Parallel, SxS Cross and Anaglyph (Red/Blue). Open the plug-in settings page in your Susie-compatible software or open MPO_Thumb_Setting.exe and select the Rendering option.
You can also check "Disable MPO parallax" option, which will ignore the parallax distance data stored in MPO files.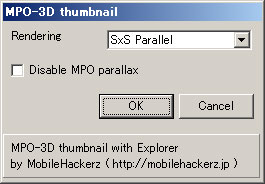 7. E-mail attachment conversion service bookmark
The e-mail conversion service allows you to convert MPO files to parallel-view JPEG just by sending an e-mail. Send a downscaled MPO file to the e-mail address specified below, and the server will automatically send an e-mail with the converted JPEG file to the recipient.
Note:
Never send a full-size MPO file. You must downscale the file to 640px or 320px on the camera.
This service uses Gmail to get e-mails. If Gmail recognizes your mail as a spam, you won't get the image back.
The server accepts one MPO file per one e-mail. Second MPO and any other files will be ignored.
The subject and message of the original e-mail will be preserved.
Address to send your MPO:
First, replace "@" of your RECIPIENT's Address with "+".
Then add "mpo+" on the front and "@az-1.ne.jp" on the back.
If your recipient's address is "name@example.com" you should send the MPO file to "mpo+name+example.com@az-1.ne.jp"
I've been uploading my 3D pictures using this server. Go to
http://img.ly/images/MobileHackerz
and enjoy them.
MobileHackerz (Plug-in author)
2009/09/24

Version 0.01
First Release